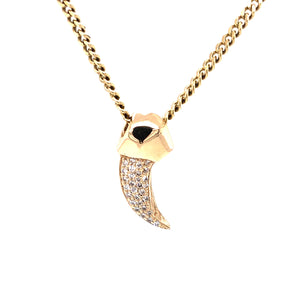 Petram Coyote Claw with Diamonds (Single Sided)
Regular price $1,400.00 Sale
Our classic Petram Coyote Claw studded on one side with dazzling White Diamonds.
These are made to order and can be customized in any color // karat of gold.
These can also be set with a variety of colored stones as well. Examples include Blue Sapphire, Ruby, Tsavorite Grarnet, and Black Diamonds. Please include one of these options in your order notes if this is something you would like to have put together.
Pricing below is for 14k & 18k gold with VS F White Diamonds
All items are made to order so allow 2-3 weeks for shipping
** If this item is being made as a gift that may have a specific delivery window please include this in your order notes. Depending on the time frame an added few may be added for expediting the process.